Now that school's out, I have a lot of free time on my hands. So lately I have been looking at different websites, just surfing the internet as you do as a college student with too much free time on their hands. I always manage to go on online shopping websites, to see what I can't afford and to imagine what I could wear with tons of money. Looking a designer goods also influences me in what kind of trends that I should try out. Below is a Part 1 of a compilation of items I would probably wear and buy if I had an unlimited amount of money. Part 2 will be posted in a few weeks so stay tuned for that!
Acne Studios: College Printed Loopback Cotton-Jersey Sweatshirt: $320
I love this sweatshirt because its different enough to stand out in the crowd, but "safe" enough that it doesn't look like you're trying too hard to be different. Acne Studios always have cool, effortless pieces that can make you stand out, without looking like an asshole. Oh I wish I could buy their stuff, but alas I'm a college student on a college budget. Hell, I'm currently doing an unpaid internship. Talk about that college life.
Alexander McQueen: Navy Check Velvet Blazer: $1,975
I'm always in love with a velvet jacket. Perfect for the holiday season (which is ONLY six months away) for when you got out and have dinner with those high school friends that you sometimes talk to. I feel that owning and wearing a velvet blazer just oozes luxury. Can never go wrong with one.
Burberry:  Kensington – Mid-Length Heritage Trench Coat: $1,695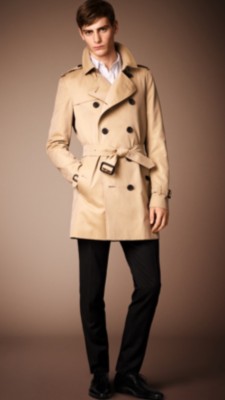 This trench coat would be a dream to have in anyone's closet. Its a classic piece that can go with anything, yet it has that slim-cut modern edge that can flatter any body-type. Wear it over a suit, or with jeans and a t-shirt. You can't go wrong with this trench. I need it as soon as can save enough money (which could take a while considering I don't have an actual job yet and I'm still a university student).
Burberry: Slim-Fit Travel Tailoring Wool Sharkskin Suit: $1,995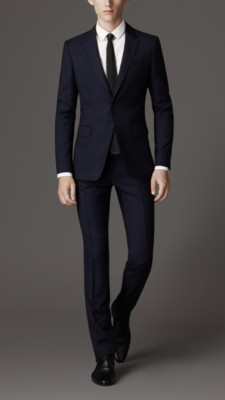 The cut and color of this suit is what I always dream to look like. A dark enough blue to wear for any occasion, and slim enough to flatter my smaller, skinnier frame. On the Burberry website, it says that the suit is made from 100% sharksin cloth, using an innovative technique to weave to fabric. I know that Burberry suits are mostly known for their cuts and not so much their materials, but hey, this is a world where I have an unlimited amount of money and can buy any suit I want.
Saint Laurent: Leather Biker Jacket: $6,450
A leather jacket another great staple piece to have. A biker jacket is even a greater piece to have. It just screams badass, which is something I'm not. That's what I love about fashion; you can create a create a new character with the clothes you wear. Whether it be artsy, badass, prep, you can be anybody. Now this Saint Laurent is something I would kill to have! I just love the detailing of the jacket and the fit of it too.
Well that is the end of Part 1 of my Dream Wardrobe. Stay tuned in the upcoming weeks where I'll post the 2nd part of this series. I love getting feedback, so any advice you have for a new blogger, please feel free to message me or to make a comment below. In the mean time, have an awesome day!
-R.N.
All images are not mine. They belong to both Burberry and mrporter.com